I'm as big a Disney fan as they come, but I've never been a fan of Pete's Dragon. It's not like I hate it or anything, it just wasn't a movie that particularly interested me growing up. I liked Elliott the dragon well enough, but the story was too silly for my tastes and the songs weren't particularly great. Pretty much the only aspect of the film I have fond memories of is the Elliott float in the Disney Main Street Electrical Parade. And considering my love of all things dragon, you'd think I would have been more into Pete's Dragon, but it just didn't work out that way. And considering the relative obscurity of the 1977 film, I figured I wasn't alone. So I've been surprised by the strength of the backlash against the remake due out in a few months. While I assume most of the rejection of this new version is mostly a symptom of resistance to the Disney live-action remake trend, it's true that the first teaser trailer was underwhelming. We got a new trailer today, with the film just two months out, that gives us a much better look at the story, the tone of the film, as well as Elliott himself. Take a look below and read on for my comments and screencaps, and then tell me what you think!
This new version of Pete's Dragon is seemingly only keeping the bare bones of the original film, doing away with many of its characters as well as the sillier elements of a plot. The basics are still the same, though, in that it tells the story of Pete, a young boy living alone in the woods with only his dragon Elliott for company. In this version Pete is "rescued" by Grace (Bryce Dallas Howard), a park ranger, and brought back to civilization, where his old life and his new life come into conflict and his secret dragon friend is gradually revealed to the town. This trailer is much more compelling than the first, giving us action, drama, and heart, while still attempting to keep things mysterious. Director David Lowery doesn't have a film of this sort in his filmography, and it's too early to say what he'll make of Pete's Dragon, but I'm definitely intrigued and am looking forward to seeing it. With a solid cast including Howard, Wes Bentley, Karl Urban and the legendary Robert Redford, it could turn out great.
The backlash against Pete's Dragon has been very different from that surrounding other Disney remakes like Alice in Wonderland and Maleficent. I haven't seen a lot of people defending the original's story and characters, or complaining that the new version isn't a musical, but instead the complaints all revolve around the design of Elliott. Take a look:
The Elliott in the original version, on the other hand, looks like this: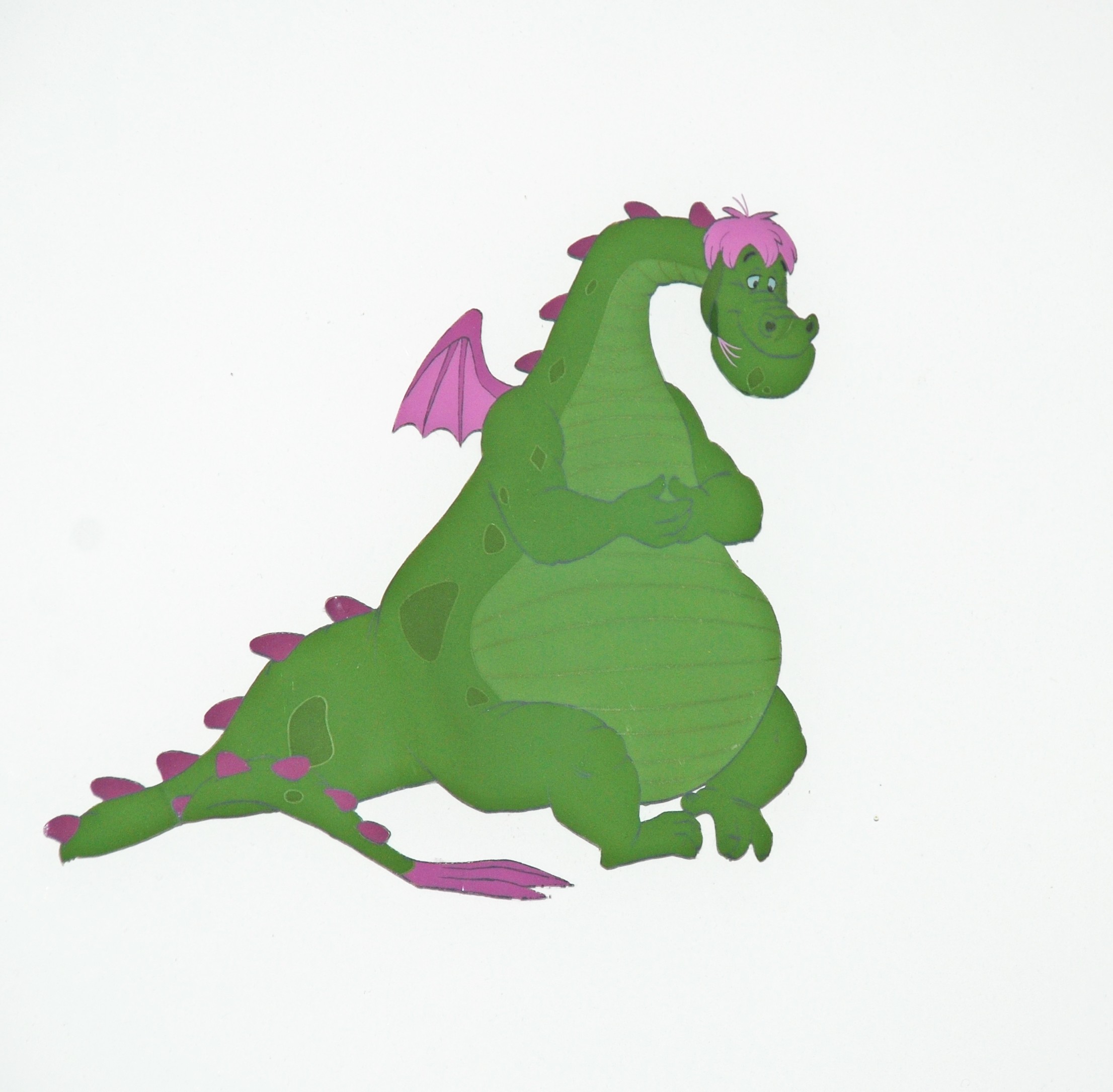 Clearly, there's a big difference. The animated version has a pot belly, pink hair, purple scales, a floppy tongue, and tiny pink wings. This new version is covered in fur, and is only vaguely reminiscent of the original in terms of its shape and color. And I understand for people who are huge fans of the original that it's just too different to accept. But for everyone else who isn't devoted to the 1977 film I say this: use some common sense and get over it. I'm typically not that harsh, and everyone is certainly entitled to their opinions, and I'm not telling people they need to like this new version, but there's absolutely no chance that a dragon resembling the original Elliott would ever work onscreen today. It would be impossible to make a film that anyone would take seriously (even a fun, family film) with that dragon in it. People would laugh at the screen, or would see the trailers and immediately dismiss them as something for only little kids.
The issue is, the original Elliott is most definitely a "cartoon". Usually I hate when people use that word, because it's so often used as a way to pigeonhole animation as something adults don't go see because it's "just a cartoon". But Elliott is from a different era, when animation was sometimes primarily aimed at being silly. Now, there's nothing wrong with silliness, and many great movies contain silliness, but movies have to be more rounded than that. In the original film Elliott spends the first part of the movie in a kind of nebulous in-between, where it's debatable whether he is real or imaginary. And as a product of a child's imagination in the 1970s (or maybe the 1950s), it's conceivable that the cartoon Elliott would be something a child would create in his mind. But by the end, when it's clear Elliott is real, the film becomes wildly less believable. Not because there's a dragon running around, but because there's a dragon running around the real world that looks like a cartoon. There's a reason the most successful live-action/animation hybrids are the ones, like Who Framed Roger Rabbit, that explicitly name the animated characters as cartoons. If you can accept that as a part of the premise, then you can accept cartoons interacting with our world. Otherwise the visuals are just too disconnected and different for the mind to reconcile.
So Elliott has to look more real for this version, in keeping with other hand-drawn characters upgraded to CG for remakes. But does he have to be furry? No, he doesn't have to be, but I don't understand the fervor of the complaints other than simply "because it's different." In fact, Elliott was originally designed in 1977 to be reminiscent of Asian dragons rather than Western Medieval dragons which are scaly and reptilian, though he ended up being something of a hybrid. This new version has taken that farther, giving him a full coat of fur while keeping bat-like wings. If you want reasons as to why Elliott should have fur, there are a few I could give you. Given that this version of Pete's Dragon takes place in what appears to be the Pacific Northwest, a cold-blooded reptilian dragon would make far less sense. Instead animals tend to be hairier and warm-blooded in that cold, damp region. Elliott, to me, actually reminds me of an otter, particularly as he splashes through the stream, a creature adapted to the woods and steams of the area and one which often bears a resemblance to Asian dragons. But from a storytelling standpoint a furry dragon makes sense too. A scaly dragon would not provide nearly as much warmth for Elliott in the cold woods as would a furry one, nor would it be as comforting to snuggle with (for Pete or the audience). And besides, Falkor, the luck dragon from The Neverending Story, has fur, and he's one of my favorites.
Sure, you can make an argument that this new design was just created to sell stuffed animals, but that argument has been made about some character in almost every Disney film, and was probably made about the original Elliott as well. I don't have any hope of convincing the hardcore anti-remake Disney fans to accept this new version, but to people who might be interested in the remake if it just weren't so different I say: give it a chance. You've got nothing to lose by being open to it, and if you hate it you can always pretend it doesn't exist and just go back and watch the original. For me, I'm curious to see how this new Pete's Dragon will turn out. It's far less flashy than some of Disney's other films, and they're not promoting it nearly as hard. I'm a fan of things that fly under the radar, and Pete's Dragon has a subtlety thus far that appeals to me (at least as much subtlety as a film about a giant dragon can). And honestly, I love dragons, particularly seeing a wide variety of styles and depictions, and Elliott is different than what we're used to on the big screen. Not every dragon needs to try to copy the Vermithrax Pejorative, the greatest of all cinematic dragons from Dragonslayer. Sometimes a softer take can be nice.
What do you think? Does the Pete's Dragon remake interest you at all? Do you wish Disney would stop with the remakes all together? What do you think of the new dragon design? Can you ever accept fur on a dragon, or is it a hopeless cause? Do you think audiences would go for a faithful CG rendering of the original animated version, or would it be too silly? Has there been too much attention paid to the dragon? What do you make of the rest of the trailer? Did you like getting to see more of the story this time around? What do you think of its tone? What's your favorite cinematic dragon? Let me know in the comments, and check out more screencaps below!